D.R.U.G.S - Legalize D.R.U.G.S
(The Mix CD)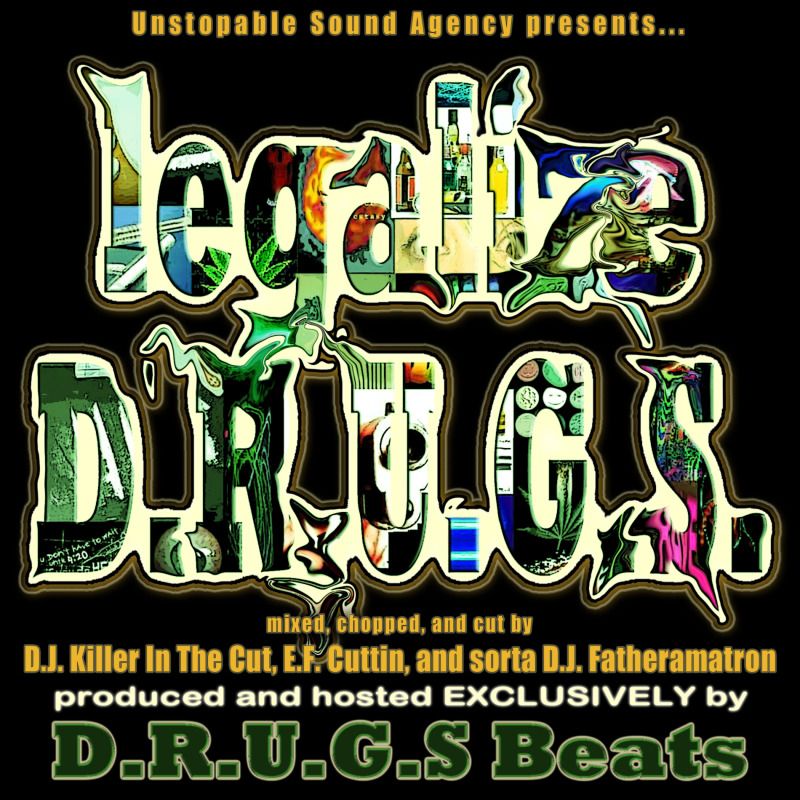 Download Now
www.facebook.com/Father-Jah/
www.facebook.com/Unstopable-Sound-Agency/
www.facebook.com/pages/Dj-Killer-in-the-Cut-Unstopable-Sound-Agency/
Twitter: @fatherjah


Legalize D.R.U.G.S (Dope, Real, Under-Ground, Sound) is a FREE 36 track mix CD produced and hosted STRICTLY by the country's sickest street-hop sound craftsman, D.R.U.G.S. Beats, and sliced to perfection by DJ's Killer In The Cut, E.F. Cuttin, and sorta D.J. Fatheramatron!!! Find out why 50 Cent, Killer Mike, Father Jah, Ludacris, Donnie McFly, Mike Flo RBG, Tony Yayo, Adrift LaBelle, and 9th Wonder probably don't agree ON SHIT.....except that DRUGS Beats is the TRUTH, and a force to be reckoned with!!!

The Legalize DRUGS mix CD also features work that DRUGS has done with all of the above artist and more, and is the prelude to the Father Jah and D.R.U.G.S album coming in November 13, 2012 titled "Manuscripture of the Father, Inspired By D.R.U.G.S (Dope Real Under-Ground Shit)".

Get mixtape distribution at @Raphenom.
Tracklist

01 D-R-U-G-S Speaks 1- DRUGS Beats
02 The D.R.U.G. Revolution
03 And Ya Know That (Hu,Ha)- Father Jah, Doh Is Electric $ Bagz
04 Hands Down- The 5ive
05 Times Up- Mike Flo
06 Burnin D.R.U.G.S (lika a arsonist)- Secret Society of Intolerable Jerkz
07 D.R.U.G.S Against The World (2Pac mix)- Tupac (mix)
08 D.R.U.G.S. Against the MFN Man- Secret Society of Intolerable Jerkz
09 I Just Wanna- 50 Cent, Tony Yayo
10 Can You Buy That- Ludacris
11 Can You Buy That (OG)- Killer Mike
12 D.R.U.G.S. Speaks 2
13 Police Say Legalize…- Secret Society of Intolerable Jerkz
14 Beat The Block to Survive- DJ Killer In The Cut
15 Danny on D.R.U.G.S.- Danny Brown (mix)
16 D.R.U.G. Illery – Secret Society of Intolerable Jerkz
17 D.R.U.G.S and Violence – The Unstopable Yet Intolerable Jerkz
18 East Coast D.R.U.G.S (mix) -Big Pun, Camron, Lox
19 West Coast D.R.U.G.S. (got the cunt tree a-dick-tit)
20 DRUGS, Chains, Poetry, Substance, and Wackness- Secret Society of Intolerable Jerkz
21 Raw Dope Real Under- Ground Shhhhh-EF Cuttin
22 EF Servin the Hedz- EF Cuttin
23 D,R.U.G.S. Speaks 3 (co-sign-mint)- D.R.U.G.S. Beats
24 I Hate Rapperz- Donnie McFly, Father Jah, Jr. Dread of Code Red
25 D.R.U.G.S.- Adrift Da Belle, BIG Vision
26 The Krane Puss Step -B'TT K'NK'D (aka Buttaa KinKaid)
27 Into The Darkness – Big Remo, Khrysis
28 D.R.U.G.S. Speaks 4- D.R.U.G.S. Beats
29 F#ck R U?- Father Jah, Donnie McFly
30 The Mashines-Senor Kaos, Homeboy Sandman, Buff 1
31 D.R.U.G.S. Speaks 5 -D.R.U.G.S. Beats
32 Get In Line (Chop No Screw)-Father Jah, DRUGS Beats
33 We Str8 (the Push) (Chop No Screw) -Father Jah, DRUGS Beats
34 Set It Off, Get It On) EXCLUSIVE-Father Jah, DRUGS Beats
35 OUTRO (The D.R.U.G.S Have Gooooone)- Father Jah, DRUGS Beats
Also Check out These Videos
Get In Line
I Hate Rapperz